Excursion Perched villages
To discover the French riviera differently, we propose you to go to the perched villages.
Off the beaten tracks, a day to stroll through unique and very charming villages with great heritage places, stunning perched villages, great sea views.
Here is a suggestion of perched villages Sainte Agnès, La Turbie and Roquebrune cap martin
Sainte Agnès
It is a very spectacular site on the coast at 2600 feet high just above Menton.
It is therefore the highest village of the coast In Europe. You will enjoy fantastic sea views, lovely sceneries and settings from the Alps to the coast.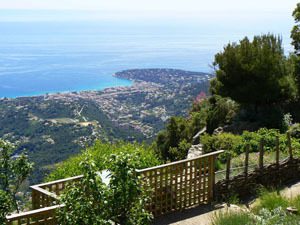 Let's discover Sainte Agnès ' heritage
The Notre dame church , its very charming village and cobbled stone streets, hand crafters, the amazing military fort of 1932 and Maginot line.
We could also climb up to the ancient site of the medieval castle, and its ruins.
La Turbie
It is a very quaint medieval village at about 1400 feet high.
From the top of the rock we will enjoy spectacular views, from the italian riviera  to the Esterel hills on the western side of Cannes.
The location of La Turbie, has always been strategical and very often invaded.
It was a roman site also and the main heritage of the roman history is the trophy that they built to celebrate the victory over the local tribes of the Alps.
The monument of the Trophy has been partly restored, and its is possible to visit this unique roman heritage.
We will stroll through the old narrow streets and discover the local church of St Michel.
Roquebrune cap Martin
Roquebrune is a higher up village and the cap Martin is the coastal path. It is almost touching Monaco.
We wil discover a lovely heritage such as the castle of the 10th century.
It was owned by the Italians and the Grimaldi of Monaco . it is now the heritage of the city. From there you could take beautiful pictures and will enjoy beautiful panorama.
Stroll trhough the narrow alley ways, small houses built on the rock, its beautiful church Sainte Marguerite, and the amazing older olive tree of the area.
The town became famous during the 19th, loved for its mild climate and winter and the aristocrats built some amazing properties along the sea side of Cap Martin.
Later on, some famous people artists, architects, came here and  had properties on that cap Martin.
During your day tour in the perched villages, taste the local Cuisine and specialities.
if you want we could always recommend you very nice restaurants, with local specialities to discover.
Wine tasting with local cheese, in a very unique wine cellar or picnics, could be also arranged one request.
All our tours are possible for small groups, couples, solo travelers, or large groups
In private car, sedan, or mini van and bus.
The itinerary is customized according your wishes, so tell us more about that we will tailor made your day.