Private guided Tour Antibes St Paul de Vence, Vence
Along the coast and inner land, enjoy a Private guided Tour Antibes St Paul de Vence, Vence
Discover Antibes
Antibes is facing Nice and the southern alps, and the bay of angels, the setting is very nice. It has also a very old history and heritage, in the old town, Vieil Antibes
Frstly, Explore the old city behind the rempart walls.
You will also go to the famous fresh food market and all the provençal tasty nice specialities, enjoy the vibrant atmosphere, cafés, vendors
In Antibes, it is also possible to discover the ancient Grimaldi castle, where is located the Picasso museum.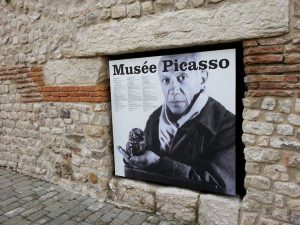 Then, Stroll along its harbor, its remparts, to enjoy a view facing the southern Alps and all the coast of the french riviera
Finally, Drive along the coast and discover the exclusive Cape d' Antibes and luxurious hotels and villas.
Discover Saint Paul De Vence
Saint Paul de vence, is called the village of the artists
It is also one of the prettiest village of the french riviera and very gifted, a strategical place, fortifications, you will love this place
It is the artistic village of the poets, writers, actors fell in love with this place, the very unique light and enchanting atmosphere. They all went to the famous restaurant called the colombe d'or
you will discover the authentic place and the very nice heritage, very charming village so well preserved!
Explore the old cobbled stone village, its charming fountains, its beautiful heritage left from the medieval ages the church and the chapel Folon
Discover all the art places, studios and galleries, craftsmen also.
Meet the artists : It could be possible also to meet the local artists and see how they work.
• Fondation Maeght is a major museum of modern art exhibiting of Giacometti, Chagall, Matisse, Miro...
To have fun in family or with friends enjoy the local game, and famous all over the south of France. On the main square, you can enjoy a petanque lesson and tournament, enjoy the local aperitif Pastis.
Discover Vence
Vence discover the old settlement and its heritage, the medieval tower castle and bishop residence, the old settlement of the roman ages,the cathedral in the old town.
It has been also one of the favorite places of the area for the painter Henri Matisse . He loved this town and stayed there to paint and create.
Discover during the tour the"Rosary Chapel" of the dominican sisters. Matisse's last master piece of Art.