During your stay here, enjoy a real French Riviera Art Tours
discover the French riviera  Art tours on the footpath of the artists
Firstly, Your tour could include the main  museums, from impressionism to modern art and contemporary art.
French Riviera Art Tours
will be a valuable insight about the artists and especially the painters
They found here the light, the inspiration for their art.
We will not only tour in the main museums, but also discover the places where they used to live.
The tour will really focus on the intimate part of their life here to really understand their passion for the french riviera.
Here are suggestions for your private guided tour
Renoir in Cagnes sur mer 
His house originally a farm is located on beautiful hill and has a fantastic view on the Haut de cagnes and the sea side of the French riviera
Marc Chagall in  Nice and in St paul de vence 
Chagall museum in Nice is called the biblical message
and in st Paul de vence, you could see some very nice and major pieces at the fondation maeght
Pablo Picasso in Antibes and Vallauris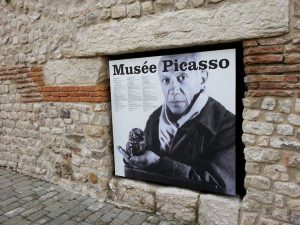 In Antibes stroll in the old town, and discover the impressive castle Grimaldi and a  unique exhibition in the museum Picasso. Paintings and ceramics, pictures, sketches.
In vallauris, discover the passion of Picasso and the art of the poteries and ceramics
henri Matisse in Nice and Vence
In Nice discover the Matisse museum from the early age as painter  to his last project in Vence the Rosary Chapel. The chapel has been totally renovated and the exhibition presents also some of the sketches, vestments
Fernand Léger in Biot
Stroll through the Fernand Léger National museum in Biot. we will guide you to learn all about his art and the very nice exhibition  paintings and ceramics
Cocteau in Menton
Discover the colorful dn baroque old town, and the work of Cocteau during his years here. A great art collection and beautiful setting gby the mediterranean sea.