Authenticity, and tasty
Wine and food private tours will give you the opportunity to learn more about our region,
First, if you like authenticity and go off the beaten tracks, this tour is made for you
during your wien and food private tour we propose you a real insight
Let's discover our local culture and enjoy unique places with your tour guide
Ask us on request your personalized wine and food tour,
Wine and food private tours from your place
From your place, during a day cruise excursion, we can arrange a nice wine and  food private tour
It is always the good season and moment to enjoy the local culture and the food and wine places here.
Firstly , we will accommodate  tour according a selection of the products and  farmers
We will meet  the local people of Nice , people who are form here, and love their region and products.
some lovely organic food and  farms, vineyards, but also cheese makers, olive oil groves etc..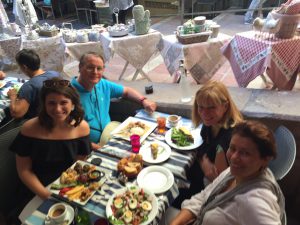 Discover the very lovely local specialties, based on fresh products, the real Nicois and provencal food.
The nicoise culture, language and cuisine  are based on very authentic and traditionnal people and very deep culture, and above all a fantastic and healthy cuisine, let's discover the secrets of theses recipes.
Socca, pissaladiere, pan bagnat, Daube, or petits farcis, and many other lovely and tasty things to try
Wine and food private tours
We will propose you also to enjoy with your wine tasting, Red Rosé and white wines, some very tasty delicacies
So, we could arrange this with local fresh goat cheese of the area, some great local tapenade of olives of the region.
Olive oil season from october
The harvest of the fruits in Nice and the area are normally schedule around october november.
Every year it is a very difficult work to harvest manually, in each little farm the busiest time has come, and then some delicious olive oil will be ready for next year.
we also cook and prepare all the local cuisine with this olive oil.
It can be a great opportunity to taste their produces during a food tour, or a visit in a local mill.